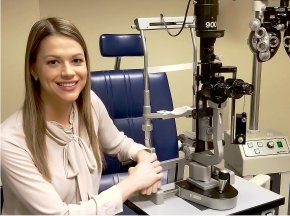 Dr. Melissa Smith, originally from South Florida, graduated Magna Cum Laude from Florida State University in 2011 and completed her optometric education at Nova Southeastern University in 2015. Following graduation, she completed her residency at the Baltimore VA Hospital, which is one of the largest optometric residency programs in the country. The focus of her hospital based training was ocular disease, with a strong emphasis in glaucoma. During her time at the VA, Dr. Smith was privileged to participate in rotations at The Wilmer Eye Institute and local private practices and in 2017, Dr. Smith earned her Fellowship in the American Academy of Optometry (FAAO), an exclusive organization for those demonstrating academic and clinical excellence.
Dr. Smith is a member of the American Academy of Optometry, as well as the Maryland Optometric Association. She is passionate about performing comprehensive eye exams and managing ocular disease, specifically glaucoma and post-surgical patients. She provides comprehensive patient education to increase awareness about the importance of early detection and treatment of glaucoma.
Dr. Smith has been a Baltimore resident for over three years and has come to love the charm city.